上海金畔生物代理MiTeGen品牌蛋白结晶试剂耗材工具等,我们将竭诚为您服务,欢迎访问MiTeGen官网或者咨询我们获取更多相关MiTeGen品牌产品信息。
Crystal Mounts and Loops
Simplify crystal harvesting, and obtain the best possible data from your crystals, using the most advanced lithographic cryo-loops available.
Composed of X-ray transparent material, crystals can be mounted directly on the loops, reducing excess fluid, preventing damage, and making getting the crystals out of the drop easier.
Learn More Below Selection Guide – Choose the best loop
Categories: Crystal Harvesting, Cryocrystallography, Accessories for LCP
Product Information
Details
Design
Cleaning
Impact of Loop Choice
MicroMounts™ are the world's highest performance tools for retrieving and mounting protein crystals, virus crystals, and small molecule/inorganic crystals. They can be also used for handling small fragile samples of all sorts, including biological, archaeological and mineralogical samples. MicroMounts™ are compatible with all standard X-ray hardware, and can be inserted in 0.7 mm mechanical pencils or micromanipulators for easy handling.
Micromounts™ consist of thin polymer tips attached to beveled non-magnetic 0.025″ (0.64 mm) diameter stainless steel rods. Their patented design provides an excellent combination of X-ray and optical transparency, mechanical rigidity and flexibility, and precision dimensions.
The polymer is unoriented, so the background scatter does not show the sharp peaks of competing mounts, and has the lowest possible birefringence.
Curving the tip by wrapping its base around the rod makes it rigid, and provides a scoop-like action in retrieving samples. The tip can also flex and bend flat against e.g., a well or glass slide, to dislodge and then slip under a sample.
A wicking aperture draws excess liquid away from the sample, reducing background scatter and allowing faster sample cooling for cryocrystallography.
Since 2008, MicroMounts™ (and all of our other products) have been made using the most mechanically robust unoriented polymer available. With proper care – especially during cleaning – each MicroMount™ can be used to harvest and measure dozens of crystals.
Extremely easy to use, novices can be mounting samples in minutes. MicroMounts™ make your crystallography pipeline more efficient by maximizing the odds of successful mounting, cooling and data collection.
In Situ-1 Crystallization Plate

The In Situ‐1™ plate enables crystallography researchers to easily grow, transport and screen crystals of…

Universal Puck (Uni-Puck) Starter Kits

To get you up–and–running to the beamline All the components you need Ease of ordering Savings up to…

Reusable Goniometer Base Styles

Quickly assemble MiTeGen Mounts, Loops, and Meshes into bases for crystal harvesting, without using glue or…
In Situ-1 Crystallization Plate
The In Situ‐1™ plate enables crystallography researchers to easily grow, transport and screen crystals of…
Universal Puck (Uni-Puck) Starter Kits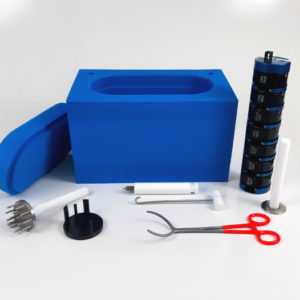 To get you up–and–running to the beamline All the components you need Ease of ordering Savings up to…
Reusable Goniometer Base Styles
Quickly assemble MiTeGen Mounts, Loops, and Meshes into bases for crystal harvesting, without using glue or…