上海金畔生物代理MiTeGen品牌蛋白结晶试剂耗材工具等,我们将竭诚为您服务,欢迎访问MiTeGen官网或者咨询我们获取更多相关MiTeGen品牌产品信息。
Universal V1-Puck (Uni-Puck)
The Universal V1-Puck (Unipuck) is a sample pin storage and shipping container compatible with many automated sample mounting systems. The V1-puck holds 16 MiTeGen sample bases/pins. It consists of two parts shown in the image: 1) the sample enclosure (left) and 2) the sample base piece (right).
Each part of the V1-puck has a unique serial number for identification. Custom serial numbers are available if requested at time of order.
For more information on the development of the V1-puck visit: http://smb.slac.stanford.edu/robosync.
Universal V1-Puck (Uni-Puck)
SKU: M-CP-111-021Categories: Crystallography Pucks & Cassettes, Pucks, Universal Pucks (Uni-Pucks)
Product Information
The tools for handling Universal V1-pucks are available individually or in our convenient Uni-puck Starter Kits.
You may also like…
Uni-puck eCryotag Tracking Option

The eCryoTag, developed at EMBL, allows your Unipucks to be easily identified at cryogenic temperatures. An…

Universal Puck (Uni-Puck) Starter Kits

To get you up–and–running to the beamline All the components you need Ease of ordering Savings up to…

Uni-Puck Multi Color Puck Option

Get your Uni-pucks set in a series of unique colors. Help identify which puck you are working with. Available…
Uni-puck eCryotag Tracking Option
The eCryoTag, developed at EMBL, allows your Unipucks to be easily identified at cryogenic temperatures. An…
Universal Puck (Uni-Puck) Starter Kits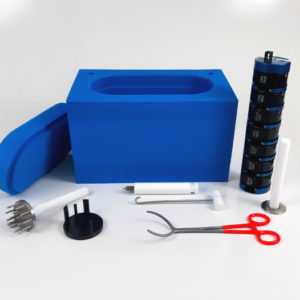 To get you up–and–running to the beamline All the components you need Ease of ordering Savings up to…
Uni-Puck Multi Color Puck Option
Get your Uni-pucks set in a series of unique colors. Help identify which puck you are working with. Available…