SWISSCI  96 孔结晶板  3 Lens Crystallisation Plate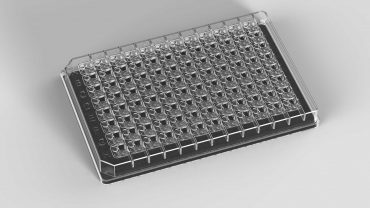 3 Lens Crystallisation Plate
Facts
ANSI/SLAS 1-2004 Standard
288 wells
Available in 3 polymers
Key Features
Optically perfect wells
Micro-numbering
Optimised for crystal mounting
3 透镜结晶板
事实
ANSI/SLAS 1-2004 标准
288口井
有 3 种聚合物可供选择
主要特点
光学完美的孔
微编号
针对晶体安装进行了优化
 Description
About
The SWISSCI 3 Lens Crystallisation Plate is an ideal product for protein crystallisation presented in a 96-well plate format. The SWISSCI 3 Lens Crystallisation Plate offers unique properties that make it ideal for both nano-litre crystallisation screening and micro-litre optimisation alike. Available in optically superior polymers and with an innovative well design allows easy crystal viewing and retrieval.
Product Specifications
Easy Crystal Retrieval
Raised wide wells improve accessibility for crystal mounting.
Easy Viewing
The micro-numbering is visible by microscope.
The wells are a wide conical shape and have a lens effect for perfect illumination.
Available in 3 different polymers
Available in 3 Different Polymers. Polystyrene (PS), UVP and UVXPO. The UVXPO polymer is an optically superior UV transmissible polymer that additionally shows uniform (zero) background when using cross polarised light. Low Profile Version Available Low Profile (LP) Plate has the same optical properties and uses the same volumes as the midi plate while saving on storage space. The Low Profile Plate is 7.75 mm and the Midi Plate is 11.7 mm in height.
Better Sealing
Wide partition walls between the wells give plenty of area for sealing.
No central bending occurs in this very robust structure.
Excellent long term storage – no sample evaporation.
Wide range of volumes
Typical volumes are 20-40 μl of reservoir and 50 nl-5 μl drop size. The 288 optical wells offer three times the number of experimental conditions
描述
关于
SWISSCI 3 Lens 结晶板是一种理想的蛋白质结晶产品,采用 96 孔板形式。 SWISSCI 3 透镜结晶板具有独特的特性,使其成为纳升结晶筛选和微升优化等的理想选择。提供光学性能优异的聚合物和创新的孔设计,可轻松查看和检索晶体。
产品规格
轻松取回水晶
凸起的宽孔提高了晶体安装的可访问性。
轻松查看
微观编号通过显微镜可见。
井是宽圆锥形,并具有完美照明的透镜效果。
有 3 种不同的聚合物可供选择
有 3 种不同的聚合物可供选择。聚苯乙烯 (PS)、UVP 和 UVXPO。 UVXPO 聚合物是一种光学性能优异的紫外线透射聚合物,当使用交叉偏振光时,它还显示出均匀(零)的背景。低剖面版本可用低剖面 (LP) 板具有相同的光学特性,使用与 midi 板相同的体积,同时节省存储空间。 Low Profile Plate 高 7.75 mm,Midi Plate 高 11.7 mm。
更好的密封
井之间的宽隔墙为密封提供了足够的区域。
在这种非常坚固的结构中不会发生中心弯曲。
出色的长期储存 – 无样品蒸发。
范围广
典型体积为 20-40 μl 储液器和 50 nl-5 μl 液滴大小。 288 个光孔提供三倍的实验条件
Order Information  订货信息:
Item: MRC 3 Lens Crystallisation plate
Codes:
Midi: UVXPO-3LENS 3W96T-PS 3W96T-UVP
LP: UVXPO-3LENSLP 3W96TLP-PS 3W96TLP-UVP
Details: Box of 100